It is getting to be that time of year again! Whereas many students and instructors are focused on wrapping up the fall semester, various others have been actively working on adjustments to the Faculty Activity Report process, which will begin in March 2011 — sooner than we want to believe. So your question may be, "What is happening with Faculty Activity Reports?"
Faculty Activity Report Review Task Force
In June, the Provost's Office established a Faculty Activity Report Review Task Force to identify and evaluate options. The Task Force is chaired by Dr. Maurice Eftink, Associate Provost, Dean of the Graduate School and Professor of Chemistry and Biochemistry, and includes the following members:  Dr. Glenn Hopkins, Dean of the College of Liberal Arts;  Dr. Mark Wilder, Dean of Accountancy; Dr. Linda Chitwood, Dean of the School of Applied Sciences;  Dr. Delvin Hawley, Senior Associate Dean of the School of Business and Associate Professor of Finance;  Dr. Ivo Kamps, Chair and Professor of English;  Dr. Stephen J. Cutler, Chair and Professor of Medicinal Chemistry;  Dr. Conrad Cunningham, Chair and Professor of Computer Science;  Ms. Mary Harrington, Director of Institutional Research; Dr. Robin Buchannon, Assistant Vice Chancellor for Research & Sponsored Programs;  Dr. Noel Wilkin, Associate Provost and Professor of Pharmacy Administration;  Dr. Mark Dolan, Associate Professor of Journalism and New Media; Dr. Jason Ritchie, Associate Professor of Chemistry and Biochemistry; Dr. Lori Wolff, Associate Professor of Leadership and Counselor Education; Dr. Dwight Waddell; Assistant Professor of Health, Exercise Science & Recreation Management;  Dr. Tom Marshall, Professor of Physics and Astronomy; and Dr. Kathy Gates, Chief Information Officer. 
July Decision to Continue with Structured Database Model
In July, the Task Force voted to continue with a structured database model, which would allow for institutional reporting on activities. Long term options are still being considered, specifically whether to continue with an in-house solution or to adopt a commercial product. Given the time that is required to make a careful decision and then to implement that decision, the current in-house system will be used for at least one more year and has been updated based on feedback and assistance from the Task Force. This article highlights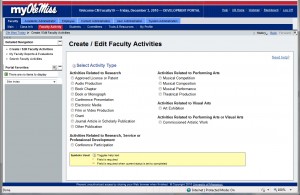 the changes that have been made so far.
User Interface Improvements
First and foremost, the interface has been incorporated into MyOleMiss for improved usability.  No more pop-ups or opening in other screens or tabs. Another major change is that the layout has been redesigned to use a tabbed format. When adding or editing an activity, there are no more long, scrolling pages that seem to go on forever, but rather there is now a tabbed layout that saves your content as you add it between the tabs on a single screen.
Other changes relate to how you manage your activities. As you may remember, there are two parts to the process: adding activities into a database that is searchable; and pulling those activities into an annual report to which you can add commentary. It is now easier to manage database activities such as journal articles, books, or artistic works. The system presents a list of activities that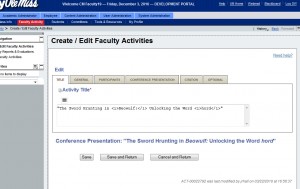 gives you more information initially, such as the start and end dates and the current status, so you can decide if you need to edit an existing activity or create a new activity. You are able to sort this list with primary and secondary sorting capabilities, and a drop-down menu beside each activity gives quick options for many functions (e.g., editing, deleting, or adding participants).
When adding participants, there is now an "auto suggest" feature. As you type in a person's name (Last, First Middle) a drop-down list will show the first five matching responses. Help text is hidden under a question mark icon; that is, when you click on the icon, the screen will expand to shown customized notes for that particular field.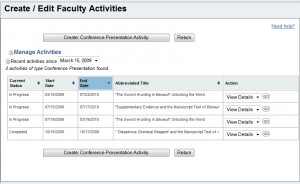 Numerous other small changes have been made to simplify the layout and make the process more user-friendly. These changes were based on feedback from the Task Force and individual faculty members as well as reviews of commercial products.
The interface to enter and edit faculty activities is currently available. You may begin adding your activities such as conferences, journal articles, etc. to the database now. Changes are planned for the report creation part too. The revised interface to create reports will be available by early February.
Getting Help
If you need assistance with the new layout or if you have any questions, please contact Faculty Technology Development Center at 915-7918 or ftdc@olemiss.edu. If you would like individual assistance in person, drop by FTDC in 101 Weir Hall weekdays between the hours of 8:00 am and 5:00 pm.